The Research
Research is defined as "a careful consideration of study regarding a particular concern or a problem using scientific methods."
In this moment of our Brave Employee Experience, we start looking for you. There are three significant steps: Search, Recruiting and Validation.
Search
Once we have decided what we need, we go for it. In this phase, we look for different candidates with different skills. We won't hire you for what you know or what you have done. We will select you for what you can do with us.
Our People team is specialized in translating our corporate needs into professional profiles. They find the perfect candidate for each position. #PerfectMatch.
Recruiting
Matching is like good relationships; it takes two people. We are going to select you for your enthusiasm, skills, knowledge, experience and commitment, but, above all, for your potential to add value to our strategic project.
For your side, you will choose us for…
… the project full of innovative technology you will be part of,
… the exciting development you can have at Telecoming,
… the incredible team you will work with
… and all these benefits:
Holidays
25 working days of paid holidays per year!
Flexible schedule
You can enter whenever you want between 8.00 and 9.30!
Good Mornings
Enjoy free nice coffee and gourmet teas for everyone at any time.
Parking
We love bikes, bus and public transport but if you need parking … ask for it and we will help you.
Invitations & Discounts
Thanks to our partners we regularly offer tickets to attend sporting events, live music concerts, … non-stop!  We also have agreements with businesses in the area to offer discounts to all Telecoming employees.
Compensation
Competitive Salary: The compensation is not only based on the market value but also on the value that each one brings to the company. We care about maintaining the balance between what the person gives to the company and what he receives.
Ticket restaurant: everyone receives a ticket restaurant card so you can expense your meals from Monday-Thursday up to a certain value.
Flexible compensation: Adapt your salary and take advantage of tax benefits: Health insurance, nursery and transport tickets. 
Office
Most beautiful working spaces ever:
Office: located in Torre Europa, on the 16th floor. Enjoy spectacular views of Castellana and Bernabeu (hi football fans!)
Lunchroom: Next to our offices we have a very special room! We use it for lunches, internal and external events, cinema discussions some Wednesdays, a recording studio for video productions… and much more!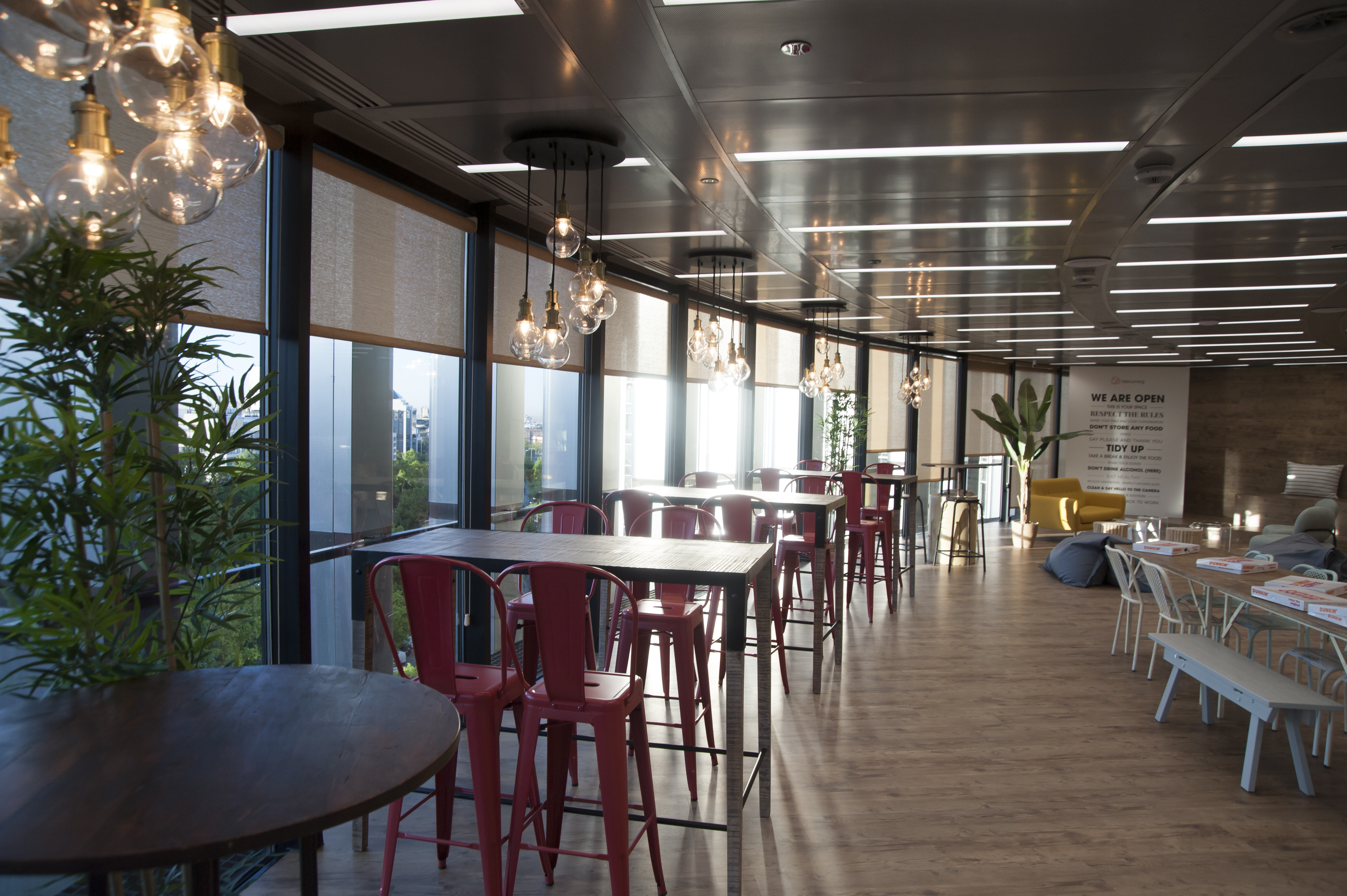 People Always First
If you join the company you will participate in all the actions that are part of what we have called THE PLAN, made up of 3 types of activities.

CULTURE
We organize cultural activities in Madrid. It's an opportunity for our foreign and local talents to discover the city where we are based. It's an excellent initiative for weekends.
We make plans together in an out-of-work environment … sometimes even family or friends sign up!
GASTRO
We choose one person from one of our 16 nationalities for a traditional typical meal. He will be in charge of hosting a lunch with 10 invited colleagues. 
We believe in the power of gastronomy to bring people together because around the table, the best conversations arise.
SPORTS
We organize sports activities. From our participation in urban races to canoeing, football competitions, yoga, paintball, rolling, bowling, trecking, horse promenades … and much more!
We are ready for any sport you can imagine! (except extreme sports because we want to keep you safe! )
Validation
It's an essential step in our Brave Employee Experience. However, validation takes some time. The first phase is the moment for meetings. Depending on the type of candidate, the project, the process and the needs, you can have different interviews. They can include technical, personal or competency tests.
The objective is to verify that we are all (you and us) making the right decisions at each phase of the process. We want to ensure all parts' satisfaction.
We're looking for people with a brave spirit. 
Do you want to become one of us?