The Onboarding
Our onboarding process begins before you enter the company. We want to receive you as you deserve and that is why it starts with us.
Internal preparation
Your team prepares your arrival
The manager informs the rest of the group of your incorporation and the projects you will be in charge.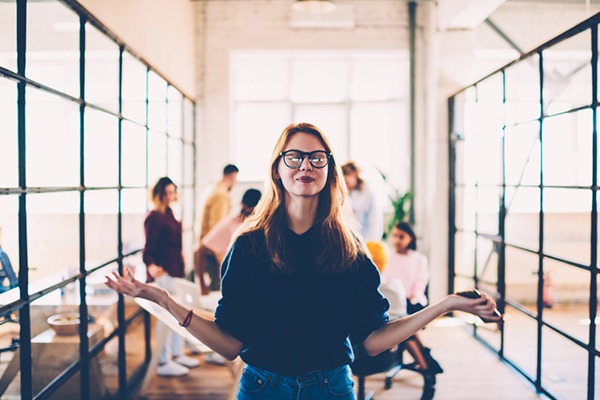 IT
technical equipment
Mobile if you need it
Computer: Mac or PC depending on the area
Two monitors. We are a technological company and work in the digital world. Our teams must have the required tools for their daily work. Once you try the 24-inch double screen, you won't want to work with just one.
PEOPLE
Mentoring Program
Before you arrive, you will be assigned a mentor who will accompany you during the first month. This will enhance your learning about our culture and help you foster relationships between the different teams.
PEOPLE
Training plan
We analyze the training needs of each new talent and we implement its strategy.
Our team is international, so language courses (including Spanish, of course) is given to employees.
But there are many more!
Your first day
This is how we welcome you.
Welcome pack
In digital and physical formats. The first one contains all the information about the company, the policies, the tools, the teams, the culture, the practical information… take time to soak up everything!
The second one is a surprise 😉
Guided tour
A walk through our headquarters with one of our People ambassador, to introduce you to the teams and discover our facilities.
Lunch with your team
Generally, your manager will bring you together for an informal and relaxed meal with your colleagues.
During the first 3 months
Quality Assurance Validation
It is an interview with People and your manager to confirm that we meet your expectations and that you meet ours. In Telecoming, we are passionate about feedback. We are convinced that it helps us improving all processes, reinforcing what we do well and changing what is not up to our company. So let's talk!
Onboarding general Training
During your first time in Telecoming you will attend the onboarding training. For two hours, and in a very relaxed environment, experts from different departments will explain the activity of each area and how they work with others. These training are key to promote the integration of new talents.
Onboarding specific Training
During your first time in the company, you have specific training of your position, related to procedures, tools, reports, and any other relevant topic that can help you on your daily work and perform.